After removing the front cross member I discovered more rust. As well as rusting the cross member itself very thin on the square plate that rests on the chassis itslef, the chassis was actually holed by rust above this plate. Moisture was obviously settling at this low point intside the chassis. It then rotten through the chassis and had almost rotted through the cross member. All absolutely invisible until you take the crossmember off.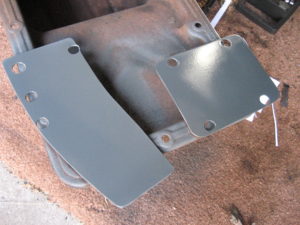 After a few minutes with an abrasive wheel I had a clear view of the area. Not only was the chassis above the cross member corroded but also infornt of this point had similar corrosion and signs of a previous repair.
As with the cross member, I decided to make a patch out of 1.5mm mild steel plate to replace the corroded area completely. I made paper templates, transferred them to the steel, cut and shaped them, making sure I accurately transposed the positions of the bolt holes.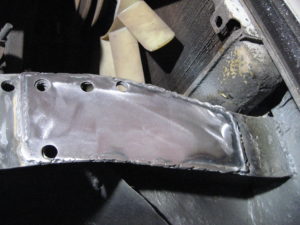 Then I MIG welded them in place making sure I had good penetration on clean steel, before tidying up with the grinder. I also gave the chassis and the rear side of the plates a good coating of weld through primer to act as another barrier against future rot.