Nurburgring Nordschleife – 3rd June 2014
It was another early start on Tuesday: 7am at the track ready for the safety briefing. The day was a private track day organised by Pisten Club: a German motorsport organisation. In total there were circa 100 cars who had exclusive use of the Nordschliefe for the day. As many laps as you like. The vast majority of the other drivers were experienced on this track and had some serious hardware at their disposal. Three quarters of the cars were either M-Series BMW or GT/RS Porsche with a few AMG Mercs and a 1.5m Euro Koenigsegg factory test car thrown in for good measure.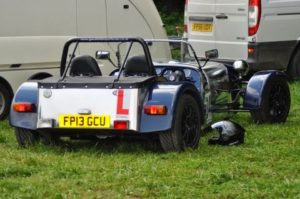 The mandatory safety briefing was at 8am in German and English then we collected our numbers, transponders and L plates (all novice Nordschliefe drivers have to wear them) and we headed back to our cars to prepare for the track opening at 9am.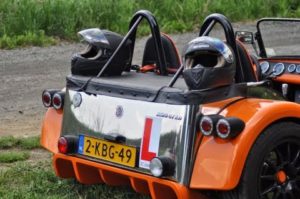 The next few hours were a blur of adrenaline and petrol fuelled excitement. The track is awesome in the "Shock & Awe" sense of the word. If you don't know the circuit (17km and 43 corners) you approach almost every bend not knowing which way it will take you and normally with a third dimension involved: either banking, negative camber or a blind crest. Add to that some rain, high kerbs and no run-offs and you have one of the most difficult and dangerous tracks in the world. Jackie Steward christened it "Green Hell".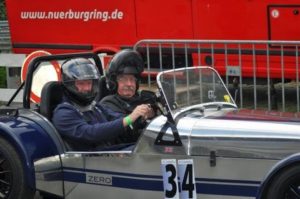 But what a sensation. My wife and I in my little garage built GBS, head to head (albeit briefly) with a 1.5m Euro Koenigsegg on a world class race circuit. That's another one ticked off my Bucket List.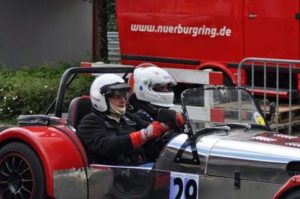 Even though the majority of the drivers were veteran on this circuit the rain still took its toll. Racing was stopped three times whilst Porsches were prised from the scenery and the damage repaired. Whilst the day ended prematurely due to the bad weather, our spirits were high. What a day.

My first attempt at a lap of the ring – the GoPro didn't get past the scrutineers….
A slow wet lap with Graterham riding Shotgun
A semi wet lap
In spite of all that was going on around them, Bernd's crew provided superb hospitality throughout the day: strong coffee and cake during the morning session and an excellent BBQ for lunch – thank you.
In the evening we went back to Centre Parcs and found one of the restaurants did an "all you can eat and drink" tariff – perfect!! We went to bed satiated and exhausted on so many levels.

Wednesday was another early start, but this time to trek home. We did the whole journey in one stretch this time – 12 hours driving in the pouring rain most of the way. When we got home my car was saturated inside and out. Motorway spray from the 550 miles had been pulled in through the open rear. But, nothing a good clean and some early summer sunshine couldn't fix on Thursday. She put up a great performance and came through with flying colours.