Managed another quick blat around Blithfield Reservoir yesterday before the rain closed in. Second gear provided more lateral movement that forward movement, but that just widened my grin. Its great to ge the blood coursing through your veins again on a cool fresh morning.
With the onset of more poor weather I decided to install the half hood that has been sitting patiently in its box since the summer. I bought it from SoftBits4Sevens along with a shower cap. The logic behind this was: half hood for driving and shower cap for stationary/overnight. Together they were less that half the price of full weather gear from GBS.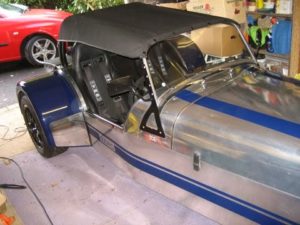 Fitting turned out to be quite straight forward. At the rear the half hood fixes to the base of the rollbar supports where they meet the rear valance. No new holes necessary, just add the nylon loops to the existing anchor points. The windscreen mounting was not so simple as it involved drilling into the u-channel windscreen surround whilst the windscreen was in place. The edge of the glass was encountered on a couple of the holes, but the screen remained in one piece even with the rivets in place. Finally the side anchor points. I chose to overlap the boot cover slightly as the forward corners of the boot cover had a habit of turning out whilst driving. Overlapping them allowed me to add another popper and keep them tidy.
I think the hood look good, even though it is a cold day so the creases haven't pulled out. It is also not as difficult as I thought to get in with the hood up as I had feared.