As mentioned in earlier posts, I realised that the car was not a rot free example early on. How many 1970's Britsh Leyland cars are? But because of the thick coatings of underseal applied to the underside, the extent of the rot underneath was unknown. I could see the passenger floor panels (front and back) were holed from inside the car and to a small e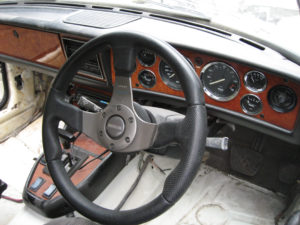 xtent the panel under the rear seat was similar. What I didn't know was what was lurking under the underseal.
So, once the good weather had come to an end (and there was such a lot of it this year 2018), I had the underside grit blasted at a local stripper.
I drove the car around to his yard and left it there for a few days awaiting a phone call to say that it had been grit blasted and I could come and collect it. When the call came it was a little more complex than "pick it up tomorrow".  It went along the lines ….. "the grit blasting had ruptured the fuel tank, so the fuel had to be removed". Oh well that's life I'll take a fresh can of fuel. "Oh and the brake lines are also leakin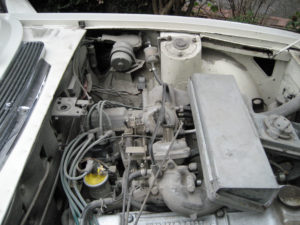 g so the car is not safe to drive".
So it came back eventually on the back of a low loader with the whole car covered in grit. Inside and out – with every crevice filled. I'm not sure what I expected but this certaunly wasn't it.
That said, the grit blasting did what it should. All the under seal had been removed so I could see the rot holes in the underside panels.
I can see there is quite a considerable amount of welding needed. As well as replacement floor panels, and boot floor there is also some minor repair patching to be done.
Welding isn't cheap, especially good mobile welders who can come to my garage to work on an immobile vehicle. Then there's the issue of needing to have someone there to open up and supervise which isn't straight forward in my household.
Anyway, I have decided to learn to weld at the local college – evening classes on a wednesday evening. Coupled with a cheap MIG welder from eBay I think I should be able to do it myself. I know it will take longer and I may regret the decision. But I am going to give it a go. How hard can it be?